Details will be revealed at the 27th National High School Manga Championship of Japan in August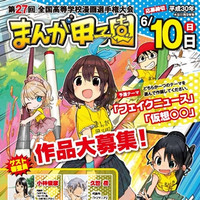 In cooperation with Dwango's Nico Nico Manga and Kadokawa's web manga service Comic Walker, Kochi Prefecture's Manga Kingdom Tosa Promotion Council will hold a new manga contest "World Manga Senbatsu." The contest will invite entries from not only Japan but other countries in the world as well.
Its currently available information are:
Wanted: 1-page mangas from around the world, based on a theme!
Submit your entries by e-mail!
The finals will be judged at the 5th Nationwide Manga Artist Conference in Manga Kingdom Tosa (March 2nd and 3rd, 2019)
All the judges are professional manga artists!
A cash prize and an invitation to the Manga Koshien will be presented to the best Manga!
More details including its theme will be announced on August 5th, in the closing ceremony of the 27th
National High School Manga Championship of Japan, aka Manga Koshien, to be held at the Cul-Port
multipurpose hall in Kochi-city, Kochi Prefecture.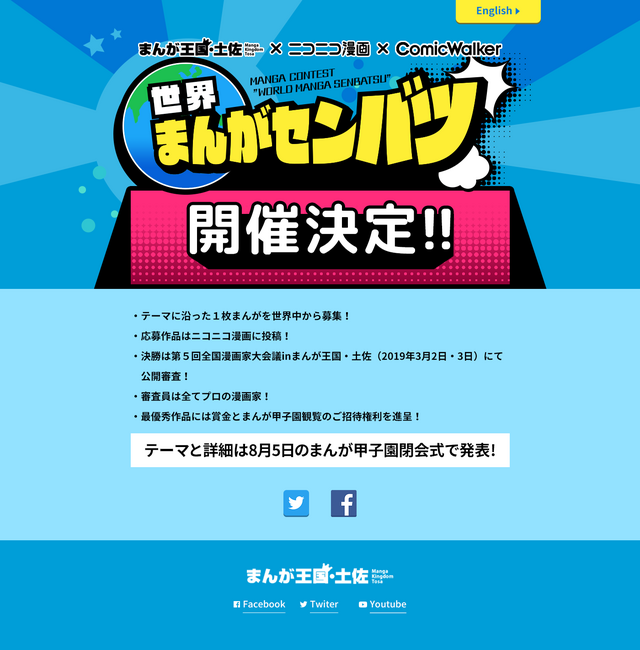 ---
PR poster for the 27th National High School Manga Championship of Japan/Manga Koshien
Learn about Manga Koshien in "Please tell me! Hot-blooded Kochi! Part 1" video with English subtitles
Source: Manga Kindom Tosa Promotion Council press release